MEMBERS Financial Services
Words from Donald Harper, MEMBERS Financial Services Representative
Helping you reach your financial goals is my number one objective. Working together, I'll help you make sound financial decisions consistent with your comfort level, investment timeline, and goals. We can start small and grow, or evaluate and build upon any existing financial plans. The end result will be a strategy designed to help you build, protect, use and transfer assets in the most advantageous way. Periodically, we'll review your situation and make adjustments as needed. it just makes sense - as your life changes, so do your financial needs, and I'll be here for you at every stage of your life.
As a professional advisor located at MemberSource Credit Union, I have a strong history of working with credit union members, their family, and their friends. I have access to a wide variety of investment and insurance products. I am a Registered Representative of CUNA Brokerage Services, Inc., member FINRA/SIPC. I am also a licensed insurance agent.
It's easy to get started with a no-cost, no-obligation consultation. Contact me at 713.244.1260 or at donald.harper@cunamutual.com.
Check the background of this investment professional on FINRA's Broker Check.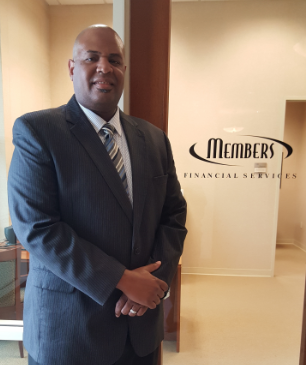 The MEMBERS Financial Services program is offered through CUNA Brokerage Services, Inc.*, a broker/dealer focused on serving credit union members. CUNA Brokerage Services, Inc. is an affiliate of CUNA Mutual Group. For more information about CUNA Brokerage Services, Inc., please visit cunabrokerage.com.

Take charge of your investments with MEMBERS Financial Services* personal financial management program:
MEMBERS Financial Services offers:
Retirement Planning
Retirement Investments
401K and IRA rollovers
Investing Funds for Higher Education
Fixed and Variable Annuities
Life Insurance
Long-Term Care Insurance
MEMBERS Financial Services is a financial management service that is located at MemberSource Credit Union. It helps members organize their investment and insurance needs and plan for the future. Its major objective is to show members how to use their financial potential to work toward their future goals. Initial Consultations are offered at no cost.
A MEMBERS Financial Services professional is available to meet with you to take a logical and educational approach to providing you with ongoing financial investment service.
For most people, achieving and maintaining financial security is a lifetime pursuit that involves planning, preparation, performance and follow-up at all three stages in the financial lifecycle:
Protecting Assets
The first priority is protecting what you have through budgetable insurance protection plans for individual, family or business needs.
Increasing Net Worth
Next is expanding your financial resources through diversified investment programs depending on your personal goals.
Managing Accumulations
Timely, effective management of accumulations including recommendations on tax-advantaged investing**, transfers of assets and estate planning are essential to the goal of lifetime financial security.
To get information about your account, obtain a copy of your statements and confirmations or get the latest information on markets, quotes, and financial news, access your CUNA Brokerages Services, Inc. account.
MemberSource CU now has a new Advisor in-house at the Westchase Branch. Donald Harper is available to meet with you Monday - Friday by appointment as available. Account information is also available by contacting the Customer Service Center at 1.888.435.7737 (or 1.888.HELP.REP, Option 1).
*MEMBERS Financial Services Professionals are registered representatives of CUNA Brokerage Services, Inc. Securities sold, advisory services offered through CUNA Brokerage Services, Inc. (CBSI), member FINRA/SIPC, a registered broker/dealer and investment advisor which is not an affiliate of the credit union. CBSI is under contract with the financial institution to make securities available to members. Not NCUA/NCUSIF/FDIC insured, May Lose Value, No Financial Institution Guarantee. Not a deposit of any financial institution. CUNA Brokerage Services, Inc., is a registered broker/dealer in all fifty states of the United States of America. ** Representative is not a tax advisor. For information regarding your specific tax situation, please consult a tax professional.
FR-2245329.2-0820-0922
Learn more about the full array of financial services enjoyed by MSCU members